Woodnote String Instruments / VB-330


4/4 Full Size, Violin (Antique Style Varnish)
- 4/4 la Grandeur Complète, le Violon (le Vernis de Style Ancien) -


Brand New Violin (4/4) with Bow, Rosin & High Quality Fitting Case
- Stigmatisez le Nouveau Violon (4/4) avec la Révérence, la Colophane et le Cas d'Essayage de Haute qualité -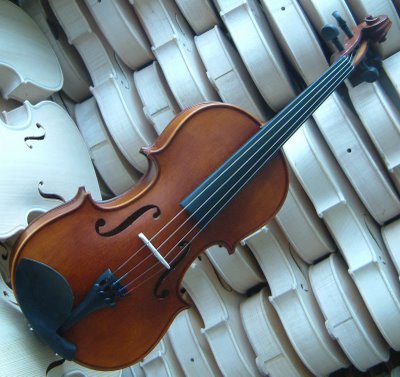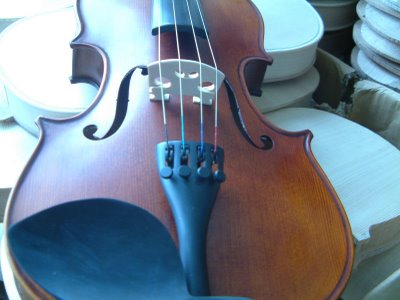 Violin Features (Caractéristiques de Violon):
Completely Hand-Made Violin
- Violon Complètement Fait à la main -



Made of Solid Spruce Top, and Solid Maple Back
- Fait du Haut Bien soigné Solide et de l'Érable Solide En arrière -


Hand-Purfling Inlay
- Main - Incrustation de Purfling -



Ebonized Fingerboard with ebonized accessories
- Touche d'Ebonized avec les accessoires ebonized -



Special Antique Style finishing
- Finissage de Style Ancien Spécial -


Brazilwood Bow with Mongolian Horse Hair
- Révérence de Bois du Brésil avec les Cheveux de Cheval mongols -


Rosin, and Dart-Shape Lightweight Foamed Fitting Case with Carry Strap
- La colophane et le Poids léger de Forme de fléchette Ont moussé en Correspondant au Cas avec Portent la Courroie -



Fully Pre-Adjusted, Absolutely ready for play
- Complètement Pré-réglé, Absolument prêt pour le jeu -



Manufacturer Direct Offer
- Fabricant Offre Directe -

<<<<< Best Example of Low Cost and High Value >>>>>
----- Le Meilleur Exemple de Prix Bas et Évalue haut -----


Shipping Cost to France: Euro 39.99
L'Expédition du Prix en France : 39.99 euros

*** NOTE: Item will be shipped from Shanghai, China ***
*** NOTEZ : l'Article sera expédié de Shanghai, Chine ***
*** Buyer will be responsible for possible import Tax / Duty chraged by the custom ***
*** L'acheteur sera responsable de la Taxe d'importation possible / le Devoir chraged par l'habitude ***

EMS Air Delivery with Tracking No. Provided
3-5 Days to North America
4-6 Days to Western Europe
*** This Shipping Rate is also valid for shipping to Western Europe, Australia, USA & Canada ****
(France, UK, Germany, Austria, Spain, Italy...etc.,)
Netherlands is in different Rate, please contact us for exact rate if you are in different locations.

*** Ce Taux Maritime est aussi valide pour expédier en Europe occidentale, Australie, Etats-Unis et Canada ****
(La France, le Royaume-Uni, l'Allemagne, l'Autriche, l'Espagne, l'Italie ... etc.,)
Les Pays-Bas sont dans le différent Taux, contactez-nous s'il vous plaît pour le taux exact si vous êtes dans de différents endroits.

Woodnote String Instruments Including the following:
Violin / Viola / Cello / Double Bass (Various Levels)
Unvarnished Violin in different models (Strad. Guarneri & Amati's)
Unvarnished Viola & Cello in different Sizes

Bows for All string Instruments (High Quality Pernambuco Bows, Snakewood, Baroque Bows...etc.)
Cases & Accessories (Different Level of Cases / ebony, Boxwood & Rosewood Accessories)

Customized Bows & Violin / Violas (Varnished or Unvarnished String Instruments & Special Made Bows)
*** We also Accept Projects of "Process for Customer's Material".
((( Making violins with wood provided by customers )))

Please visit our eBay Shop or contact us to request our e-catalog for more information.

----
Instruments de Ficelle de Woodnote en Incluant la chose suivante :
Le violon / l'Alto / le Violoncelle / la Contrebasse (les Niveaux Différents)
Le Violon Non vernissé dans de différents modèles (Strad. Guarneri et Amati)
L'Alto Non vernissé et le Violoncelle dans de différentes Tailles
Les révérences pour Tous les Instruments de ficelle (les Révérences de Pernambuco de Haute qualité, Snakewood, le Baroque Incline ... etc.)
Les cas et les Accessoires (le Différent Niveau de Cas / l'ébène, le Buis et les Accessoires de Bois de rose)
Les Révérences Fabriquées sur commande et le Violon / les Altos (les Instruments de Ficelle Vernis ou Non vernissés et les Révérences Faites Spéciales)
*** Nous Acceptons aussi des Projets "de Processus pour la Matière de Client".
(((La réalisation des violons avec le bois fourni par les clients)))
Visitez s'il vous plaît notre Magasin eBay ou contactez-nous pour demander notre e-catalogue pour plus d'informations.